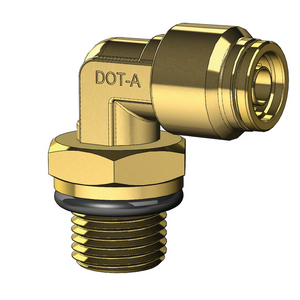 Brass Push to Connect Male Swivel Elbow - Metric Nylon Tube to Metric Thread
MDQ69DOTS6M12
Brass connectors DOT approved.
Metric nylon tube to metric thread.
Swivel 90 degree elbow.
General Pneumatics brand.
NOTE: DOT nylon air line with proper wall thickness must be used. This is because of inner sleeve on push to connect side.
Make sure a tube cutter or sharp stanley knife is used to cut air line before fitment, use of side cutters or blunt cutting tool may lead to air leaks.