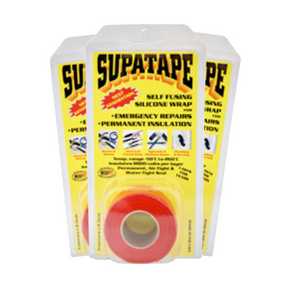 MolyTec Supatape 3 Meters x 3.8cm - Red or Blue - Each
M522
MolyTec Supatape is a self fusing silicone wrap for emergency repairs and permanent insulation.
3 Meters x 3.8cm.
Temp Range -50c to + 260c.
Insulates 8000 Volts (per outstretched layer).
Tensile Strength of 700 psi.
Self-Fusing Insulator.
No Adhesive to Deteriorate.
Permanent Air-Tight Moisture-Proof Seal.
Better than heat Shrinkable Tubing.