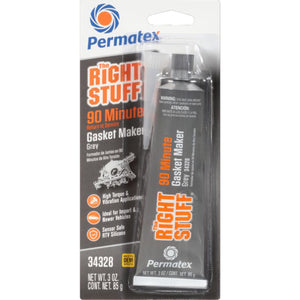 Permatex The Right Stuff Grey 90 Minute Gasket Maker - PX34328
PX34328
Permatex®s The Right Stuff 90 Minute Series offers the fastest return to service in a in just 90 minute!
Designed to perform under higher torque loads associated with engines having closely spaced bolt patterns.
Sensor-safe, non-corrosive, RTV silicone
Protects against leaks caused by vibration and thermal expansion
Meets performance specs of OE silicone gaskets
Quickly returns vehicle to service in just 90 minutes
85g tube
Part number: PX34328
Stock may not always be present at Campbellfield and Wangaratta branches, please allow 2-3 business days for stock to arrive in store.